Press Sample
Good afternoon, readers! Welcome to my new site! What do you think? I LOVE it! Mr. Adventures In Acetone is the best for setting this up for me! My first official post on the new blog today is on this bright and sparkly sunset nail art. Paint Box Polish is releasing the new North Shore Collection on June 27th and I will have my full swatches up this weekend. In the meantime, I am wearing this Hawaiian beach inspired nail art using the entire collection sponged over a white base.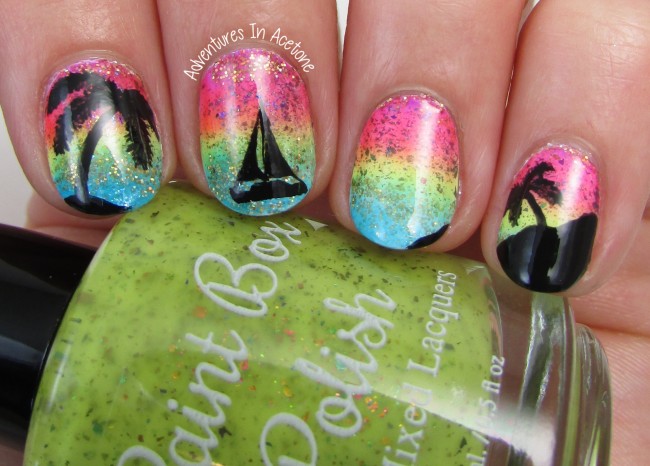 I started out with two coats of Rica Whiteout and let dry.
I painted a barrier on my cuticles around my nails with Liquid Palisade to cut down on cleanup.
Next, I swiped stripes of each Paint Box Polish North Shore Collection color onto a makeup wedge in this order: Haleiwa Town, North Shore Shrimp Shack, Sunset Beach, Waimea Waters, and Blue Above the Bay.
I then sponged the colors onto the nail and repeated the process a few times per nail until it reached the coverage I was happy with.
I used tweezers to peel up the Liquid Palisade and then a cleanup brush dipped in acetone to remove any excess polish from the skin.
I topped with KBShimmer Clearly On Top.
I used a thin nail art brush and black acrylic paint to do the land, trees, and sail  boat silhouettes.
KBShimmer Clearly On Top was used again to seal everything in and add shine to the paint.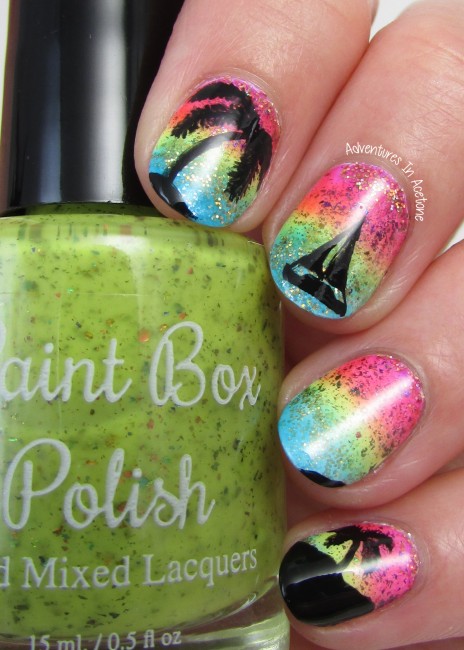 What are your thoughts on this nail art? I really love how the different glitters, shimmers, and ultra chrome flakes are dispersed in the gradient base.  I was a little surprised at how bright the colors appeared over white, you will see more of what I mean when I post the swatches of the colors alone without a white base. Make sure to check back for those this weekend. Thank you so much for reading!
Paint Box Polish Links:
Shop: http://paintboxpolish.bigcartel.com
Facebook: https://www.facebook.com/PaintBoxPolish
Instagram: https://instagram.com/paintboxpolish/
*The polishes used in this post were sent for me to review with my honest opinion. 
If you enjoyed this post, please Sign Up for email updates and you will have the latest news, reviews, nail art, and tutorials delivered right to your inbox! Never miss a post from Adventures In Acetone again. Thank you so much for reading.
– Let's paint something amazing! –