Press Sample
Good morning, readers! Today, I have 4 of the new Color Theory Collection nail polish appliqués by Incoco for Summer 2016. There are 8 new designs and I am loving what I have seen of the collection so far!
Get ready for a summer of style! Introducing the Incoco Color Theory Collection– a colorful range of geometric nail art and glitter color appliqués in vibrant shades. Explore a bold nail art look like Color Theory, with colorful shapes on a neutral beige; or treat your nails to sparkling summer confections like Summer Love, a sweet coral color laced with soft glitters.
Incoco has revolutionized nail beauty with 100% real nail polish appliqués– not stickers! Each appliqué includes a base, color, and top coat of real nail polish and can be gently stretched for a perfect fit. The appliqués provide a brilliant, salon-quality manicure in minutes with no drying time, smudges, or streaks.
I have reviewed many previous Incoco appliqués in the past, you can check them all out HERE. Incoco nail polish appliqués are different than Jamberry and other sticker brands because they are made of real nail polish and you just peel off the backing and stick to the nail, stretching a bit to get a good fit. You can file off the excess from the tips and you don't need a heat source to adhere to the nails. Also, you just use regular nail polish remover when you want to take them off. There are 16 double sided strips in each set, giving you 16 different cuticle shapes and sizes for a better fit.
Let's take a look: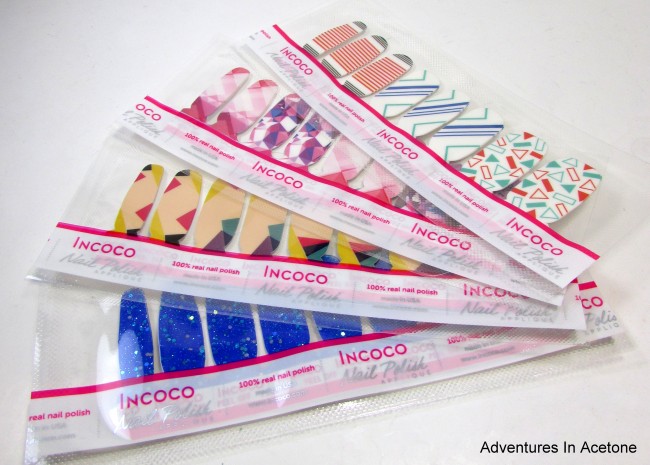 Incoco Double Vision
A kaleidoscopic pattern of dreamy colors.
This was my favorite design!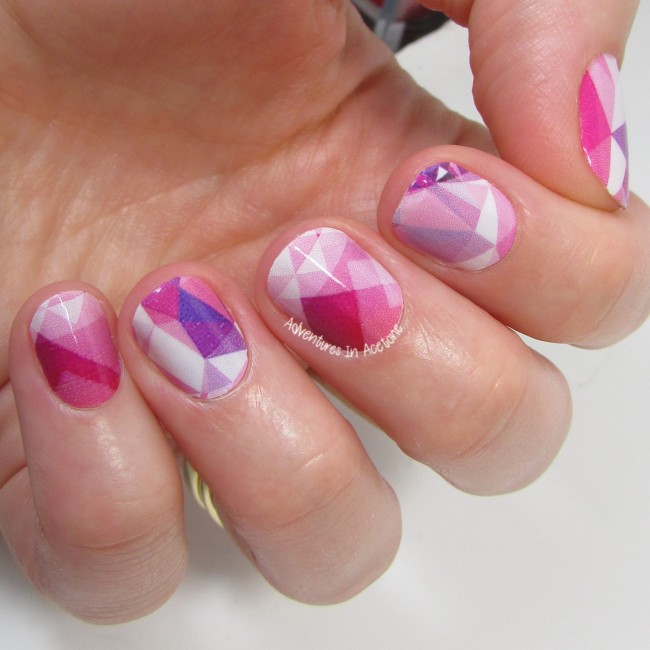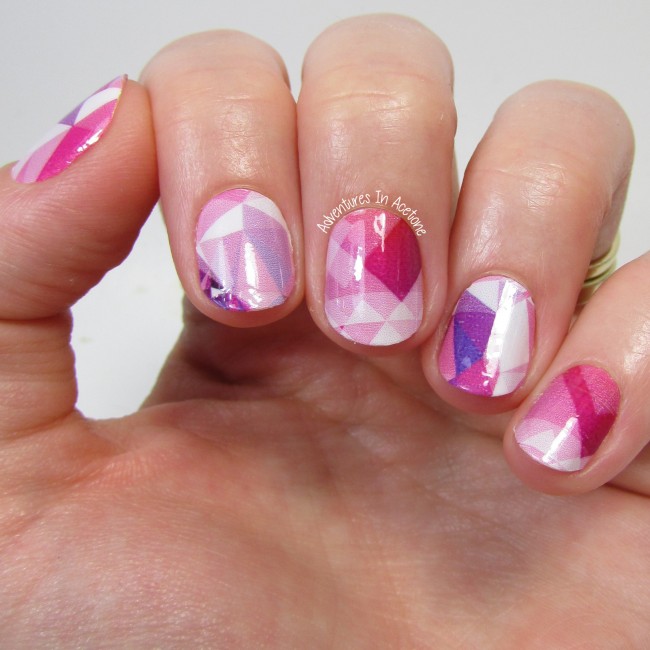 Incoco Bay Breeze
A summery blue with teal and blue sparkles.
This reminded my husband and I of the Rainbow Fish book character! It was so sparkly and I enjoyed wearing this for a while.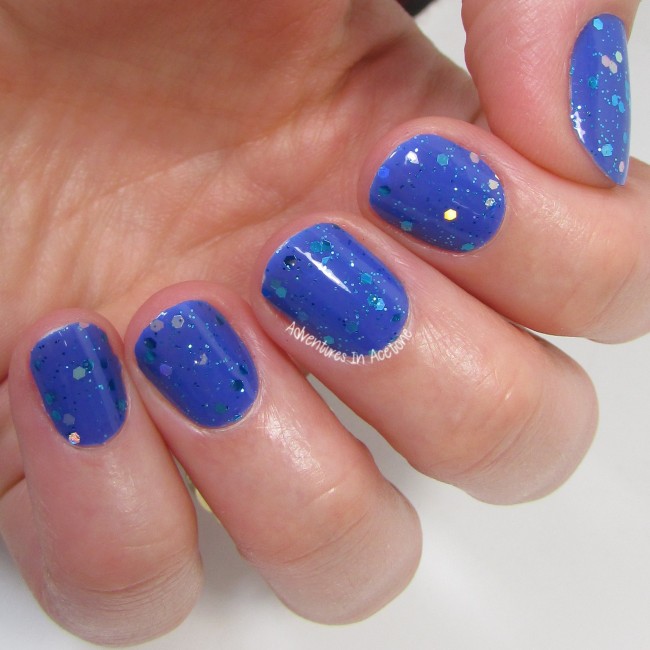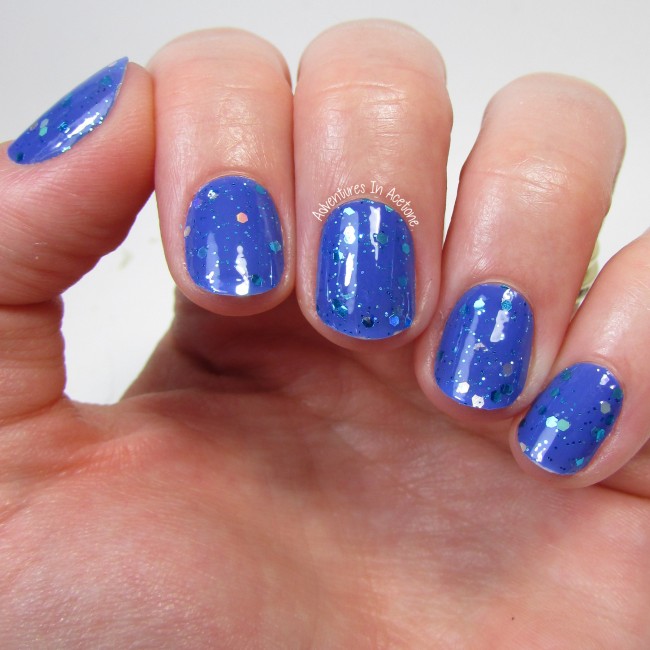 Incoco Color Theory
Colorful shapes on a creme beige.
I love the overlapping shapes on this one.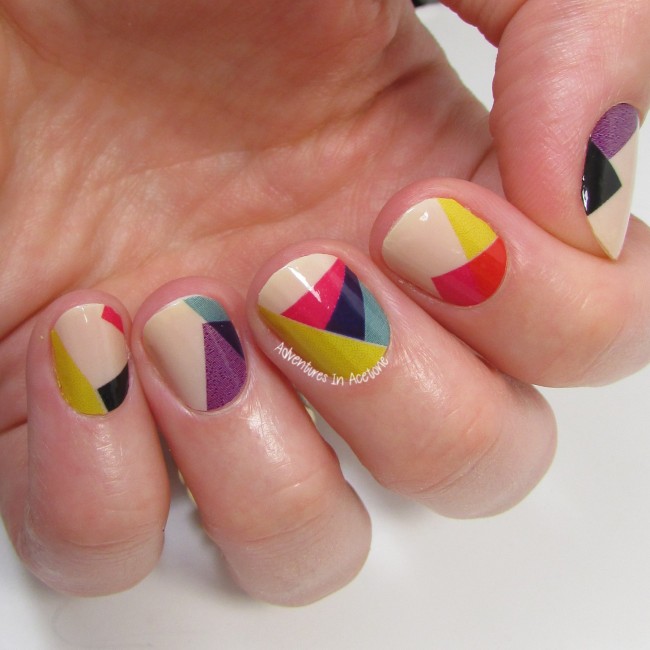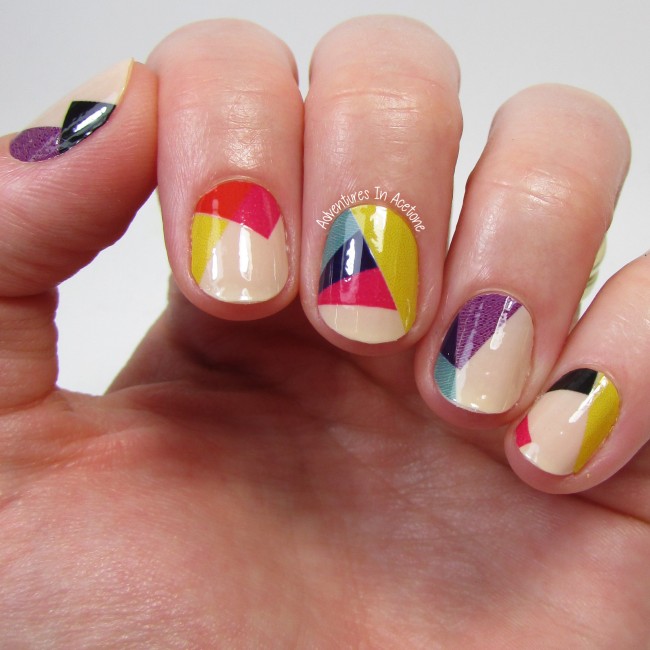 Incoco Summer School
A mix & match look with colorful stripes and shapes.
This was so wild, the red and black stripes didn't seem to match the other two designs in the pack. Very funky!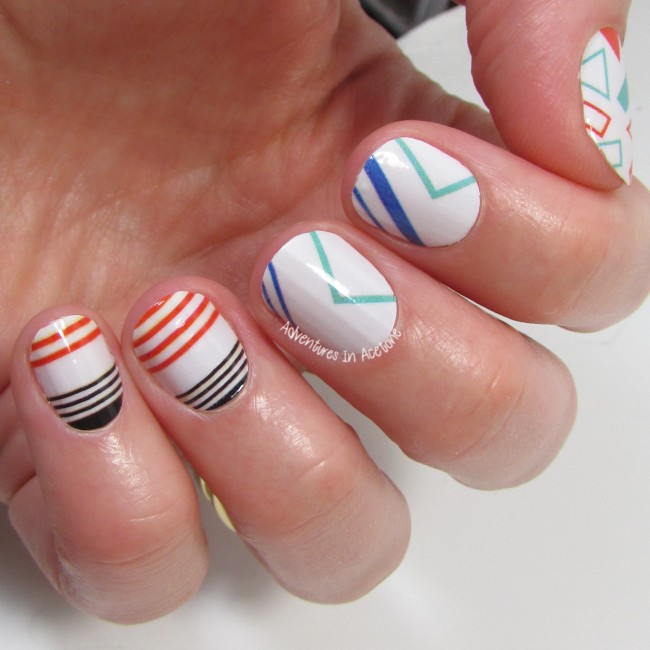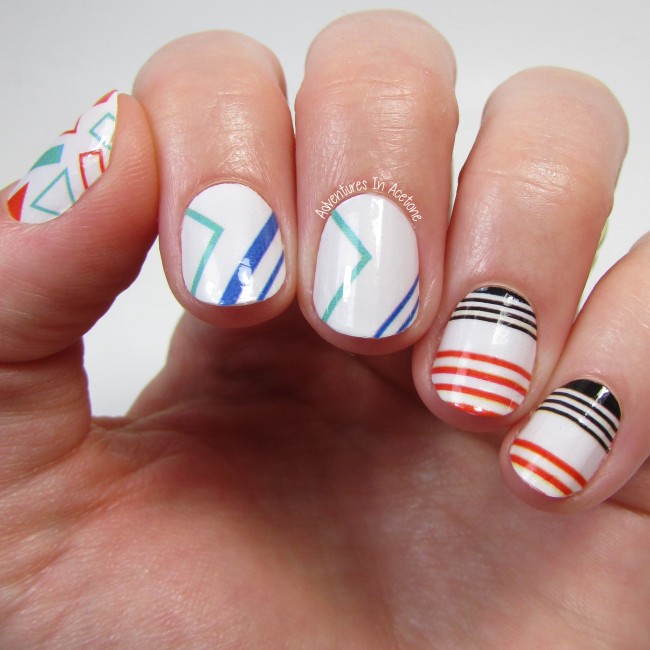 What do you think of these new Incoco Nail Polish Appliqués? Which is your favorite? These will be available at Incoco.com on June 13, 2016.
*The products in this post were sent for me to review with my honest opinion.
If you enjoyed this post, please Sign Up for email updates and you will have the latest news, reviews, nail art, and tutorials delivered right to your inbox! Never miss a post from Adventures In Acetone again. Thank you so much for reading.
– Let's paint something amazing! –